The Top 11 SEO Trends Google Expects You to Follow In 2021
Have you ever noticed websites using phrases like "web development services London 2021"? And upon seeing them, have you ever wondered what happened to the English language?
Wait! What? English Language? SEO and English Language? Is there even a connection?
And this astonishment is understandable because there are so many search engine myths floating around to put your endeavors off track.
But it'll take just a moment of realization to ward off all these myths. What's that?
You see, Google has come a long way, and, in 2021, it's intelligent, robust, and most importantly, human-centric. What people write in their search queries reflect their intent. This intention is falsely interpreted as word-by-word stuffing.
Instead, all that one has to do is answer the questions that this intent raises.
Fortunately, there is a phrase that would drive the SEO in 2021 — VALUE ADDITION. It's more like a give-and-take. You add value to the user; you get to improve your SERP rankings.
While value-addition is a very straightforward concept, its implementation can be quite sophisticated.
But then again, the good doesn't come easy, and you have to earn it. So, if
—you are willing to work hard for your website's SEO in 2021, and
—you are prepared not to expect any fluffs or shortcuts
The next 7 minutes will be quite a journey.
1. Semantic Search and Semantically Related Keywords
According to James Canington of Ardent Creative, Google's no more a bot comparing a string of words. It has powered its crawlers with human-like intelligence — these cut through the context within the queries and associate it with the most relevant content.
This means that Google focuses undividedly on the user's search intent. Realize that Intent is an important word since it entirely changes the search engine dynamic.
To that end, one of the most prominent SEO trends in 2021 would be to optimize the user intent through semantically related keywords. This entails that SEO professionals must focus on secondary keywords even more now.
How can they do that?
By performing an extensive analysis of the search results. A host of tools can be used for SERP analysis; however, SEO pros would need to brainstorm to create competitive content that's right on the money.
2. Google Discover: Web Stories
To be honest, the launching of Google Discover in 2017 made life easy. It was a ground-breaking update primarily because, this time, the user wasn't even required to put forth a query.
Everything was based on AI-driven tools recommending the content that presumably would suit the user. The result? 800 million users per month in the very first year.
Now that's a user base to leverage, isn't it? But things got even more interesting on October 6, 2020, when Google launched web stories.
Now, everyone is well aware of the prominence of stories and how they can quickly garner the attention of the targeted audience.
Well, these will now be a go-to strategy for SEO professionals in 2021.
Make quality carousels so that Google's AI tools can feature them according to the search intent.
3. Core Web Vitals
2020 – The COVID Year — The Search Engine Year
Also 2020 — Enters the new ranking algorithm in the name of Core Web Vitals
For long, Google has missed out on calculating the User Experience (UX), and understandably so. After all, UX is a subjective phenomenon. A human's experience can't be put into words, can it?
However, it sure can be created and catered to. That's precisely what Core Web Vitals bring to the table.
What are core web vitals?
These are three metrics that would allow Google to discern a user's Page experience.
Largest Contentful Paint (LCP) – Will measure the website/page loading performance.
First Input Delay (FID) – Will measure the interactivity of the website.
Cumulative Layout Shift (CLS) – Will measure visual stability.
All in all, this update will put SEO pros, writers, marketers, and designers all in the game at once.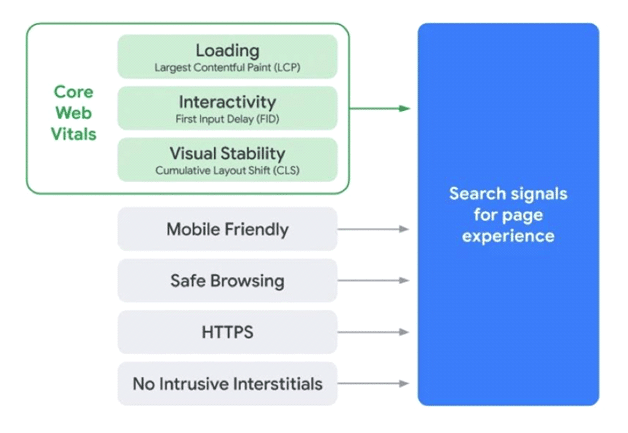 4. E-A-T
E-A-T stands for Expertise, Authoritativeness, and Trustworthiness. All three facets are important factors in determining the Page Quality Rating (PQ rating).
To cut a long story short, the websites that don't add value to the users get the lowest PQ rating and vice versa.
Now, the question arises — how to sustain and further expand E-A-T.
—Google quotes the example of news articles for reflecting upon the aforementioned. The search engine expects the journalists to write high-quality articles that are semantically intact and factually correct to facilitate a seamless informational experience for the user.
—Also, Google expects field experts to maintain high-quality pages and their related content. For instance, the articles published on a medical website be written and proofread by medical experts.
Thus, E-A-T is an SEO trend, which would prominently carry over to 2021 and beyond.
5. Long-form Content Quality Long-form content
Content — the eternal source of all the SEO discussions and debates. Although content is not the sole factor for SERP ranking, it does have control over the organic reach of a website. More so, a majority of the other SEO practices are associated with it.
Now, what's the fuss about Long-form?
Around three years ago, most marketers blindly followed a presumably ideal word count. Is there even a definite word count? NO.
At least, Google hasn't laid out any instructions regarding that. However, SEO pros have often witnessed long-form content performing better.
"Throughout 2020, I consistently witnessed blogs over 2,000 words dramatically outperform blogs of 1,000 words or less."
—Ron Lieback (CEO ContentMender) in conversation with SEJ.
Since SEO pros have recognized the power of long-form content, the year 2021 would witness even larger blog articles. 2500-3000 would become a norm for the pillars.
Finally, what's the case with Quality?
More articles, higher competition — higher-quality period.
It's challenging not to deviate from the subject when the word count exceeds the 2000 mark—those who won't will dominate.
6. Voice Search Optimization
As far as Google has reported, more than 27% of mobile search queries are voice searches. Simply put, this is a fantastic statistic and, at the same time, an astonishing one for those who are not adept at changing with time.
That said, one of the top SEO trends in 2021 would be voice search optimization.
How to do that?
The most concrete answer is — have an ANSWER to everything your target audience asks.
There are some best practices that you can follow:
Google usually answers voice-search queries using short descriptions. So, keep your content length concise.
Google mostly uses FAQ pages for answering the voice search queries. Ensure that you have as many FAQs as relevant to your business.
Google ensures that all the queries are answered in the natural language. Ensure that your content adheres to this.
7. Mobile SEO, The Mobile-First Index, and more
There's no denying that mobile has taken over the desktop. This is apparent from the 55.3% of the total searches carried out on mobile devices compared to 41.46% on desktop.
What does this mean?
That UX for mobile is as important. Unsurprisingly, many websites are yet to optimize for mobile — the reason why Mobile SEO is the next big opportunity.
The upcoming Google Mobile-First Index update further complements the efforts SEO pros are putting into mobile SEO.
"When a site is shifted over to mobile-first indexing, we will drop everything that's only on the desktop site. We will essentially ignore that."
—John Mueller, Google.
And well, that's sums it all up.
8. Local SEO
While a majority would always incline towards the global nature of the Internet, that's not how Google relates to people. The search engine is frequently used for finding the local listings — a fact that most of the traditional marketers remain oblivious to.
In fact, Local SEO is so prominent and useful that 46% of the total Google searches are associated with it. Out of these, 72% of the customers do take action (contact or visit the store).
When SEO professionals have their local bank or attorney asking for results, a greater focus on local SEO markers will be required.
While local SEO might not be the upcoming SEO trend, it surely is the one to stay.
9. Natural Language Generation
Writers might find it hard to come to terms with this, but machine learning (ML) and natural language processing (NLP) technologies are finding ways to bring in bot writers.
That's precisely the reason natural language generation finds itself on this list of the top SEO trends in 2021.
Naturally, Google loves extensive quality content. As long as your website is hosting fresher content, it would rank good on the utterly dynamic search engine. This is something that can't be achieved due to human consistency.
And this is where bot writers present themselves as go-to interventions. But, are they even worth it?
A while ago, the Guardian published an article about AI writers being proficient.
"I was in my car on my way to a new job in Seattle. I put the gas in, put the key in, and then I let it run. I just imagined what the day would be like" — this was the sentence that the machine-generated after going through the first line of the novel Nineteen Eighty Four.
Now you know what we're talking about for 2021.
10. BERT
Since we've already stressed the importance of NLP and Voice Search, it is safe to say that BERT is going nowhere in 2021.
BERT is an acronym for Bidirectional Encoder Representations From Transformers. This update has widely been acclaimed for improving the voice search and enhancing NLP.
Since it majorly contributes to Google's efforts to understand and feed user intent, BERT remains one of the biggest SEO trends in 2021.
11. Data Analytics
Thoroughly revisit all the above trends, and you'll come to one straightforward conclusion — "I need to analyze more data."
There's nothing more important than recognizing the audience, their interests, and their overall behavioral patterns.
Everything, literally everything you do in favor of your site's SEO in 2021, would depend on the extent of research and analysis you've carried out.
In a Nutshell
2021 will be a great year for search engine enthusiasts, for they would be so much to look forward to. The New Normal might even change the entire search engine landscape, but three things will never stop delivering — strategy, innovation, and hard work.
google