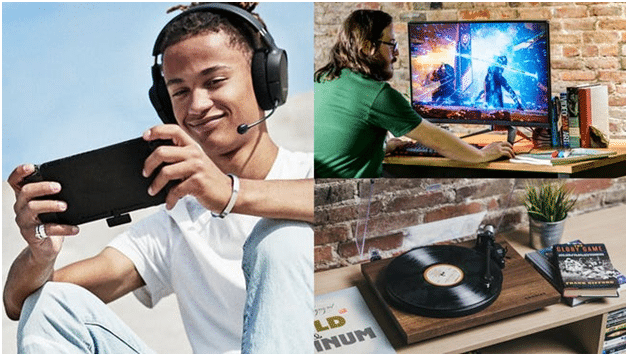 What Are the Best Christmas Gift Ideas for Technology Lovers?
It is very hard to shop for someone who likes technology products. Do not worry as we are here to the rescue. We are going to help you choose the products that are popular with tech junkies. There is a variety to choose from.
There are some things that you need to make sure of before buying these gifts. You need to make sure whether these gifts are in trend or not. Otherwise, they are going to be a flop. You can gift something that they want to buy for a long time but are not able to.
Or you can Gift them something that has just been launched or is a hot product in the market. But how are you going to know about these products when you do not have any kind of information.
Today we are going to discuss some of the hottest and the best Christmas gift ideas for technology lovers.
Let us have a look at the products.
List of Best Christmas Gift Ideas for Technology Lovers
Wireless charging pad:
If you are gifting to a person who likes new tech, then you can give them this ultra-convenient wireless charging pad. Although not all the chargers are going to be the best gifts, there are the chargers that definitely are. Well, why is that?
Well because this is a futuristic device that is compatible with the iPhones as well as Samsung Galaxy phones. This device is also compatible with the AirPods, and with various devices. You will be able to charge the device with the inductive charging technology.
This technology also supports the charging of the device that is placed directly on the pad.
Wine bottle opener drill attachment:
If you are gifting someone who is a party freak, then you can gift them this amazing piece of equipment. Whoever you give it to, they are going to get impressed when they are going to open the bottle of chardonnay with the latest screwdriver.
This attachment is going to pull the opener with a press and easily. It is surely going to beat the old-fashioned twist and pull.
Foldable Bluetooth keyboard:
You can easily send emails to people using your smartphone and tablet conveniently. You can easily type the documents on the go. Although it may be the best experience in writing emails or if you are a writer.
If there is a techie who likes to write, then you can gift them this keyboard. This keyboard is going to come in handy for those who are traveling to write a new book.
This keyboard is going to connect to the devices through Bluetooth with the android and windows operating systems. This will enable the user to comfortably work from anywhere.
The keyboard is going to fold and it can be easily stored in the purse or in the pocket.
Rand McNally GPS:
There are some users who like to travel. Well, this is a smart piece of equipment for the tech junkies who like to travel around in their vehicle or hitchhike.
This GPS comes in various models that are handy or are fitted in vehicles as well. The GPS systems are going to tell you the pinpoint location of where you are willing to go and what is the faster way of travel that will lead you there.
In order to fully utilize the capability of the GPS, you need to follow the process of the Rand McNally GPS Update. This will enable the users to reach the destination where they are willing to go.
This is the best gift for someone who is making travel podcasts or is making youtube videos while visiting a place that is adventurous.
Amazon Echo:
There are some users who like to listen to music on-demand or like an assistant that is going to answer all their questions. Well, there is nothing better than the Amazon echo.
Amazon Echo is among the best smart voice speakers that will assist the users with whatever they want to know or do. They can even let the amazon echo control all the other smart devices that might be there in your home.
You can demand the speaker to switch on the lights or open the garage when you are about to reach your home.
In conclusion:
These are some of the best Christmas gift ideas for Technology loversthat you want. These are the best and in-trend gifts that are going to make the best of Christmas for the technology lover.
Wish you Merry Christmas 🙂
christmas gift
gift idea for christmas