The Growth and Trends of Mobile Commerce
With 51% of adults having a positive view of a cashless society, mobile commerce is set to take center stage. So much so that experts forecast that mobile commerce will account for 72.9% of all retail sales by the end of 2021. That's an increase of 39% in just five years.
It'll be interesting to see what happens at the end of this year. We wrote this article to discuss the growth and trends of mobile commerce going forward with that in mind.
What Is Mobile Commerce?
Mobile commerce, or m-commerce for short, refers to any financial transaction that users perform with their mobile device. It encompasses retail sales, bank transfers, and a variety of other transactions.
Essentially, smartphones can function in place of debit cards and facilitate financial transfers.
The Situation as It Stands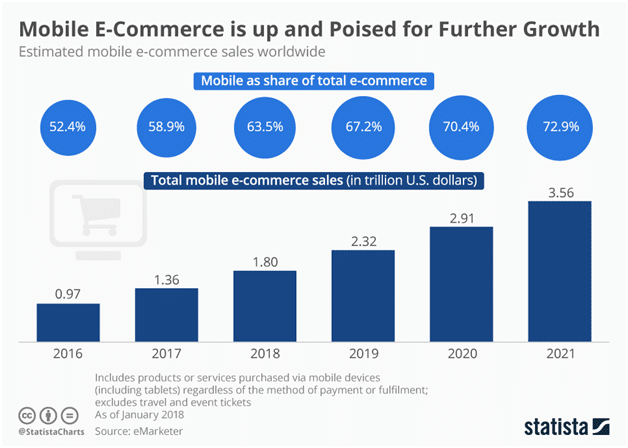 Source: Statista
As seen in the chart above, it's clear that m-commerce is following a steep growth curve. Mobile commerce is a convenient option for clients. With more and more companies providing mobile wallets and similar payment solutions, the days of the bank card are limited.
E-commerce, on the other hand, will remain. While many users appreciate the convenience of using their phones, the device's size will always be problematic. The importance of e-commerce will dwindle but never die down completely.
Trends to Focus on Going Forward
Buckle up; there are going to be some exciting developments.
Augmented Reality (AR)
Watch AR move from the gaming sector into a tool for sales. A problem with online sales of any type is that the user can't touch or try the item. AR is going to alleviate that problem using apps.
Sephora, the cosmetics brand, already does this. Clients snap a selfie and upload it to the app. They then apply the products virtually, to see if it suits them.
An extension of this idea might include a home shopping experience for clients. Through the app or a headset, they'll connect through to the store. They'll be able to try on outfits in the virtual world and speak to a virtual shop assistant, for example.
AR will allow buyers to see products from several angles and get a better feel for them.
Voice Controls Become Critical
The one thing that holds mobile devices back currently is the size of the screen. Searching for the products that you want entails typing on a tiny keyboard or scrolling through minuscule pictures.
In the future, expect apps that work solely by voice. We're used to asking our virtual assistants many kinds of questions. Now we'll be able to ask them for items in our size, to add groceries to an online cart, and even to check out.
Chatbots Are Here to Stay
Customers want instant answers to their questions. Chatbots, while nothing new, are now an integral part of customer service. Modern chatbots handle queries, provide personalized recommendations and notifications, and support your sales team. They may even remind your client that they left something in the cart.
Chatbots will also give companies greater insight into what their clients need. They collect and analyze large amounts of data, making them a helpful tool.
A Channel-less Experience
For brand consistency, clients should experience the same level of service no matter which channel they use. M-commerce allows them to seamlessly move between the online and offline realm, creating a genuinely channel-less experience.
Businesses must start viewing m-commerce as seriously as they do real-world commerce. Make vouchers available both in stores and for mobile users. Ensure that the mobile experience is as good as shopping in person.
M-Commerce Moves In-Store
The 2020 pandemic highlighted the importance of contactless payment systems. M-commerce payments are not only contactless but maybe more secure. Companies will see an uptake in clients wishing to use mobile wallets and must be prepared.
As an extension of this concept, retailers may also consider mobile-enabled self-checkouts or pay points. These may be placed in several places in the store, reducing congestion and queues.
Speed Optimization
AR gets all the pulses racing because it's an exciting new world. By contrast, we've heard for years that we must optimize our website speed. You'll listen to it again today, and it's more important than ever.
For Google et al. to index your site as a credible option during mobile searches, it must perform flawlessly on a range of devices. Forget flashy bloated marketing tricks and streamline your site so that it loads within milliseconds.
Social Commerce Meets M-Commerce in a Big Way
This is another one of those trends that we seem to have heard about before. The difference this year is that coming out of 2020, consumers are simplifying. They're spending their time more productively and that means using social media more selectively.
They'll now look at joining communities with values similar to theirs. They want companies to make things simple for them by providing them retail opportunities in their favorite haunts online. Most importantly, however, they want the social proof that others have bought and loved the product.
Companies must start to actively manage their primary social media pages and consider selling their products through them.
End-User Industries Will Drive Demand for New Innovations
It's not merely consumers that will demand an improved mobile experience. B2B companies will also need to ensure that their products meet the changing needs of the marketplace.
Companies will expect innovations to make it easier for them to meet their client's demand for m-commerce. They'll require systems support, more convenient options, and more robust solutions.
Final Notes
Experts predicted that m-commerce would eclipse e-commerce by the end of 2021. They were wrong—we already live in the m-commerce age. The impact of COVID-19 sped up the transformation by forcing more people to purchase items online and changing the way we operate.
Companies ignore mobile commerce at their peril. As the trends we discussed become more widespread, firms not adopting them risk looking out of touch with their consumers.
mobile commerce
trends of mobile