Why do Businesses need to give their Digital Marketing Strategy a new Spin?
Have you ever seen how some animals can blend in with their surroundings? For instance, a tiger in the grasslands camouflages into the tall grass, masking its location, identity, and movement. That allows it to sneak up on prey.
As an online brand, should you be doing the same?
Probably not. Every entrepreneur dreams of grabbing as many consumers as possible. They want to stand out in the crowd, whether that's through a unique product they have to offer or the way they interact with their customers.
However, if your content is
it will easily blend into the background as well. Anything that aligns with these qualities will not attract your target audience's attention. And that can potentially make you invisible in the digital landscape.
Similarly, a routine digital marketing company campaign can have the same result. Trends and preferences are constantly changing. And if your strategies do not evolve or remain stagnant, your brand could go unnoticed by thousands of people searching online every minute.
But is that what you really want?
Probably not.
You need to remain current. So that means offering something fresh, entertaining, and engaging. But more importantly, it also means that you should keep your digital marketing strategies up to date.
Wondering why this is so important?
Staying current holds a great deal of value. It makes sense for young startups who are just stepping into the competitive online arena as well as for those businesses that are not generating the right results. But as an established brand, you still need to consider giving your digital marketing strategy a new spin.
Here are several reasons why every business owner needs to revamp its marketing agenda from time to time.
1. Allows businesses to incorporate emerging technologies
We are living in a technological era. Something new rolls out every day, and people are eager to apply it to their daily lives. So with technology constantly evolving, you cannot stand still with any one marketing solution.
Some of the latest developments include voice search, image search, Internet of Things, Artificial Intelligence, Augmented Reality, Virtual Reality, chatbots, and apps, among others. Depending on which capabilities apply to your business, there will be something new and interesting that you can use to attract more consumers to your brand.
But besides this, new platforms are constantly being developed. TikTok, Caffeine, and Parler are just a few additions to the social media family. Alongside this, marketing tools are constantly helping to improve and enhance marketing efforts. Integrating the best that technology has to offer gives you a head start in the right direction.
2. Helps businesses become more profitable
Nearly everyone now owns a mobile device. And this is making it easier to target people with digital marketing. Moreover, new technologies and tools often bring with them newer methods that are more cost-effective. The best example of this is how social media marketing allows businesses to exchange more expensive, traditional advertising with cheaper digital options.
Almost 50% of the world's population uses social media. So it's a very effective marketing platform to reach a wide target audience. On average, people spend two hours and twenty-four minutes on social media. However, some people spend far more time on it than others. This is an adequate amount of time for you to interact with your potential customers.
Updating your digital marketing strategy not only allows your brand to remain in sync with consumer preferences, but it also allows you to reach more people for a lower marketing cost. And this is the ideal way for businesses to increase ROI. In fact, frequently updating online marketing strategies with professional expertise from a digital marketing agency like Growth Proton, will help you see steady growth over time.
3. Align better with the target audience
No matter how successful you are, you are nothing without your customers. But the challenge lies in staying in line with their constantly altering choices and preferences. Consumers are whimsical creatures that fall prey to desires, trends, fashion, peer pressure, and whatnot.
Digital marketing offers entrepreneurs with a substantial amount of data about consumers. With the right metrics, you can create current consumer personas and identify any changes. Updating marketing strategies to match consumer choices and preferences is a crucial aspect of running an online business. For instance, using consumer information allows brands to personalize interactions, enhancing UX based on their interests. According to Econsultancy, 74% of marketers say targeted personalization increases customer engagement.
4. Improve marketing efforts
It's hard for an entrepreneur to guarantee how well their business strategy will perform. Sometimes a well-thought-out plan can backfire, while a risky venture can prove to be extremely profitable. Utilizing data from various marketing channels can make this task easier.
For instance, a current strategy or a particular marketing channel does not generate the results that it used to. Noticing this decline means it's time to take a closer look at your marketing campaign. With the help of analytics, you can highlight issues and modify aspects of your strategy until it delivers the right results. The flexibility of digital marketing makes it easier to innovate and update so that you not only remain in your customer's radar but in Google's as well.
5. Impress consumers
Yes, we all know that the internet is a crowded space. So how do you make your brand get noticed?
Simple. Offer something different. Incorporating unique ideas and techniques that enhance customer experience can drive more traffic to your website. According to Forrester research, companies that lead in customer experience outperform by nearly 80%.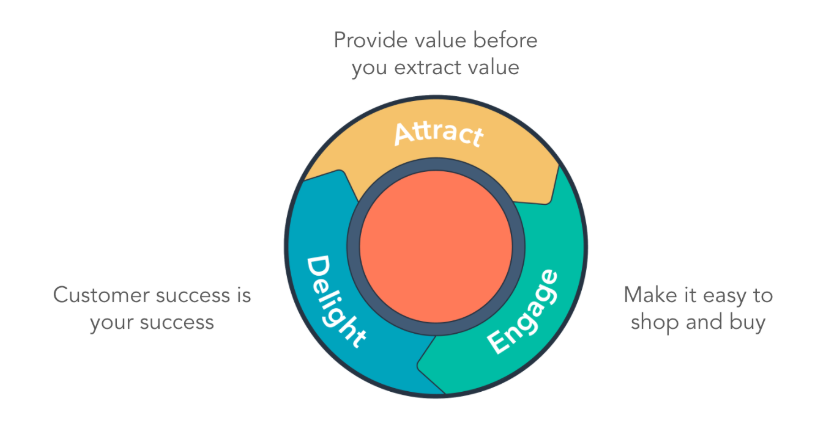 Whether it's an AR-enhanced app that wows the shopping experience or a personalized email offering a birthday discount, you know that you have to step up your game and impress your customers.
The secret lies in knowing how to tweak your marketing strategy in order to increase overall engagement. Anything new you do or offer is sure to create a hype around your brand. But understanding how to connect with your target audience and drive engagement is essential so that you can apply other tactics later on. One of the best ways to monitor the success of a new digital marketing strategy is to compare before and after results. This will help you identify how effective it really was.
Over to you
The digital landscape does not stand still. Nor does it wait for anyone to catch up with the latest trends and technologies. It continues to plough ahead at a very fast pace. The pandemic is proof of how quickly brands have needed to adapt to change.
Companies across the globe have taken the current economic conditions in stride and instantly devised a digital plan that will allow their business to thrive during and after COVID-19. With the acceleration of digitization, one can only expect that nothing will remain the same. Processes, ideologies, and preferences are all transforming.
You need to be prepared. And that means taking the time today to give your digital marketing campaign a spin. Consider ways that your industry will change in the coming years so that you stay competitive in the new economic and business environment.
Are you ready to face the challenges that lie ahead?