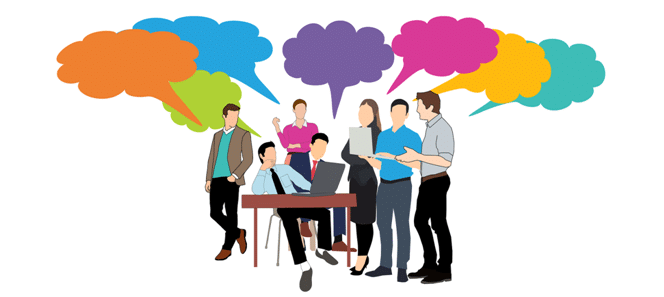 7 Best Social Messaging Apps for Your Small Business
With the emergence of messaging apps, staying connected with the workforce and prospects has become more critical than ever. It doesn't make a difference if you are a senior player in the market or a new entrant. You must pay heed to the rapidly evolving tech trends before it gets too late.
Why are Social Messaging Apps critical?
As per a Hubspot survey, messaging apps have 20% more active users than social media networks. Simultaneously, 55% of the consumers prefer to contact businesses using these apps instead of other communication channels.
Many of these apps are free-to-use. People can make audio calls, video calls, and chat with others. Hence, this medium is providing a cost-effective way for individuals and corporate entities to communicate.
Think of all the bucks you will be saving from sending printed reports and letters!
Not only this, but social messaging apps allow you to send personalized messages to your users. You can establish a one-on-one interaction, addressing their grievances and removing their doubts.
The days of calling a business to ask for info are fading away. Your potential customers are usually on-the-go. They won't always make a phone call or wait for a response email. It is only through messages that people can contact a business. This brings an incredible opportunity for a small business to build a relationship with its prospects.
Given the crazy momentum of tech world at present, it is vital for businesses to give their digital strategies a new spin.
According to Microsoft, one-third of all customers use their mobile devices to initiate contact with customer service. Therefore, having a social messaging app is the ultimate way to boost conversions.
7 Best Social Messaging Apps for Small Businesses
Given the pointers above, there is no reason for a small business to ignore using social messaging apps. Below, we have listed seven social messaging apps that could bring endless rewards for a small business.
Let's scan them together!
Facebook Messenger
Facebook Messenger is undoubtedly the most popular social messaging app. Currently, the app has 1.3 billion active users, and the figure will double by the end of 2021. A significant reason for its popularity is its connection with a highly-used social media platform.
Initially, messaging was an integrated Facebook feature to access messages if you logged into the forum. However, its growing usage compelled the developers to opt for a separate messaging application.
An entrepreneur can choose to communicate through text, video, or voice calls or send documents and images. The app syncs Facebook contacts, allowing coworkers to contact each other even when they haven't shared phone numbers. You can also create a group of the entire team to discuss problems and share their views.
It offers a diverse set of features for you to have fun communication with employees and customers. On top of everything else, you can choose to integrate chatbots. There is no need to be present every time a query comes rolling in. As per Medium, Facebook Messenger marketing has a 10-80 times better engagement rate than email.
If you haven't installed Facebook Messenger to establish connections, it's about time you do so!
Launched in 2009, Whatsapp is a free multi-platform and multi-functional messaging app. It is free to use. Plus, you can send text messages, make voice calls, and even host video conversations on smart devices or desktops.
With this chat app installed for your business communication, you will save money on text charges occurring via the carrier and across the platforms. You can also share your location, transfer contacts, broadcast your status to the team, and email chat history.
There is no log-out option, so the user always stays logged in. Even when they have missed the notification when the phone is off, the app saves recent messages for you to read later.
Sensor Tower reports that the overall Whatsapp downloads were 96 million in February 2020. That is a 42.4% increase from February 2019. The variety of features integrated into this app makes it a must-have for corporate teams. It provides them a portal where they provide in-depth troubleshooting steps guiding customers towards solutions.
Facebook acquired Whatsapp Messenger in 2014. However, that doesn't bring any notable differences in the app except some new features and efficient working.
According to research by Smartly.io, a staggering 29% of marketers spend a majority of their ad dollars on Instagram.
Currently, the app has one billion monthly users, 500 million logs into the platform every day. Small businesses must maintain a robust presence on Instagram to ensure they gain maximum eyeballs.
Instagram Direct has a bunch of cool features that support professionals to provide flawless customer service. Video chat, for example, is one of the features of this app. If a customer is having trouble understanding something, your customer service rep can initiate a video call and help them through the process.
The increasing usage of the Direct app has coincided with the growth of Instagram stories. It encourages users to fire back instant replies to friends' messages from a "send message" box under each story. Even customers can ask questions about an advert placed by a business without much trouble.
WeChat is a Chinese social media and multipurpose application. Although it has quite a reputation in the Asian region, this app hasn't found the same popularity in the West. It has an estimated 1 billion monthly active users, most of whom are residing in Asian countries.
If you are a small business in the region, you must consider using this app for your business communication needs.
One fantastic feature of this app is that you can call mobile phones and landlines. This is a flexible option if you want to contact someone who is not using this application. Also, customers using WeChat can reach your business phone number if you aren't available on the app.
One of the remarkablefunctions of this app is its barcode scanner. Instead of asking people to provide their details, WeChat users can scan a distinct barcode that adds contacts in their database. This saves time and provides additional security for the app users. Such algorithms are standard in the airG scam-free apps, making them hold a unique market position.
Kik is a free social networking and instant messaging application. Although it is not unique how it transmits the messages, this app has differentiated itself by targeting specific demographics. It appeals mainly to the teenage crowd due to its enhanced approach towards privacy and anonymity.
The idea is that you do not have to register your phone number on Kik. It needs your username and email address. Once provided, you can then maintain a super-private presence on this forum. People only recognize you by the name you take as your username.
In case you have a business that targets teenagers, this app could be a perfect fit for your messaging needs. You can reveal your name, connect with people who are willing to probe into details and send engaging info.
You can personalize notifications with different tones and apply themes to your chats.
It is also an excellent tool for inter-company communication. Team members can drive their concerns towards higher authorities while staying anonymous.
So far, the app only has 120 million users. There is a long way to go for it to compete with the major messaging apps like Whatsapp and Facebook Messenger.
Line is a Japanese messaging application that is quite similar to Whatsapp. According to Statista, this app has 82 million monthly active users in its home market as of 2020. Although there is tough competition in the scenario, Line holds a leading position in its home country.
In case you are a small business that aims to channelize into Japan or you exist in Japan, this app is a must-have. Overall, 203 million users of this app make free video calls and send messages, as reported by the Line Official Website.
This social messaging app offers video calls, voice calls, and the creation of Line groups. You can have one-on-one chats to keep conversations personal with your customers. Some other features of this app include playing games and transfer of payments. It brings a few other features that make it exciting and highly engaging for the users.
Telegram is a multi-platform messaging service. Developed by Russian entrepreneur Pavel Durov, it first came out on Android and iOS in 2013. Statista provides that this app has 500 million active monthly users.
The features that make this app unique are its encryption, privacy, and open-source API. It allows multiple devices to use the same account and various accounts on the same machine. All of these features make it a good fit for a small business. Being an entrepreneur, you could be managing several groups from employee forces and supply chain management, etc. Using this app gives you the liberty to handle several groups at once.
You can message other users, call contacts, create group conversations, and send documents. This entire package makes it a perfect choice for small businesses willing for an accessible yet flexible solution to handle communications.
Parting Notes
All apps listed above have garnered enough appreciation from their current user base. We hope you will put the finger on the app that goes best with your corporate needs and establish a strong communication network.
Don't forget to let us know which one you chose!
Social Messaging Apps