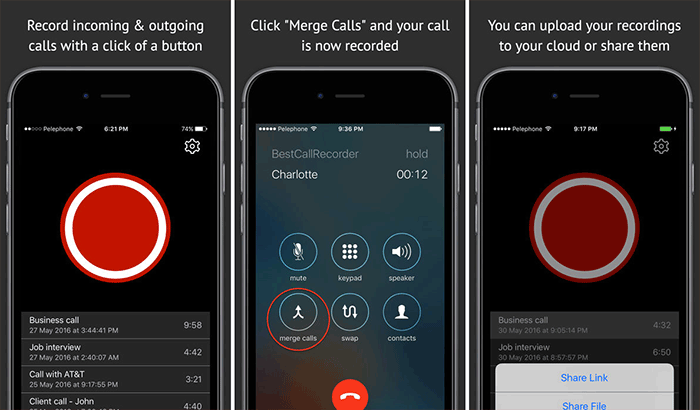 How to Record a Phone Call from iphone with or without App
Nowadays, iPhones are all the rage! Software gurus are busy developing all kinds of applications to suit the iPhone connoisseur, but not every need can be answered with a phone application. This is the most common iphone problems and solutions could be here. One of the most important functions which you don't get when buying an iPhone is the ability to record phone calls. When this mobile device has the ability to record phone conversations, its versatility and usability are dramatically enhanced. Adding call recording features and functionality to the iPhone really ushers the iPhone into the professional phone market.
For work related interviews, iPhones with call recording make the job a whole lot easier and there is no need to write anything down or take notes while on the call. all information collected during the interview can be reviewed at any time for note taking or saved in a safe location for record keeping.
As a practice, there are some important pieces of that one may fail to write down when simply using the conventional pen-and-paper method. With call recording for the iPhone, these things can be avoided and no information gets lost. Just about anybody can surely appreciate this sophisticated technology added to a device possessing such rich multimedia and internet capabilities – it's the ultimate feature. Interviewing clients and personalities for any purpose is a cinch when your iPhone can record cell phone conversations.
One always sees business professionals carrying iPhones around. The reason why they choose this device is the numerous applications which are fitted into just one mobile device. It is the proverbial "Swiss Army Knife" in one's pocket. If call recording is added to the mix, the benefits become insurmountable, especially in areas applicable to work. There are times when one doesn't want to have to be somewhere to be a part of a recorded phone call, just make a call using the iPhone with call recording and geographic location is no longer a factor in getting the job done. When you can record cell phone conversations, one can just stay in the office, at home, or anywhere else but still get the work done effortlessly.
Read More – Top 10 Android App to Record Phone Calls Secretly and Automatically
One important point to consider when using the call recording capabilities with an iPhone is that there might be a need to inform the other party that a recording is being made of the phone conversation. Recording phone conversations may be common in many places but there are jurisdictions that will require telling the party being called that the conversation is being recorded. If one is not a party on the phone call, it is always considered illegal to record cell phone conversations.
Phone Call recording for the iPhone is something that has been made available for iPhone users at low cost and with high quality. Now for the first time iPhone users can record incoming and outgoing calls easily and seamlessly. Recording iPhone conversations is not limited to the iPhone by any means and it is also possible to record phone calls on landlines and other cell phones as well. This kind of versatility and quality really makes the difference when looking to record conversations on your iPhone and customers should accept nothing less.
Read More- How a Spy App Can Help Protect Your Business Secrets?
People think that there's no great difference between an iPhone and an ordinary cell phone, but in terms of an iPhone recorder and ordinary recorders, there is a difference. Besides being flashy, people think that iPhones are practically the same as all cell phones. Oh, but are they mistaken. An iPhone is much more than cell phones. It has many unique functions that cannot be done in a usual handheld device. It has built-in and downloadable applications for all sorts of uses. For example, it can be a digital recorder, voice recorder, and call logger. It can create voice memos, which can be downloaded to a computer hard drive or stored on the phone memory.
Record a conversion/phone call from iPhone with no other Equipment
iPhone recorder apps
If you have an iPhone, you no longer need any equipment for voice recording. An iPhone has built-in voice recording components that can be used for recording conversations over the phone, voice memos, and much more. It's very easy to use as it requires no external gadget or equipment. Since it's a built-in application, there's no need to download third-party software to use the recorder, too.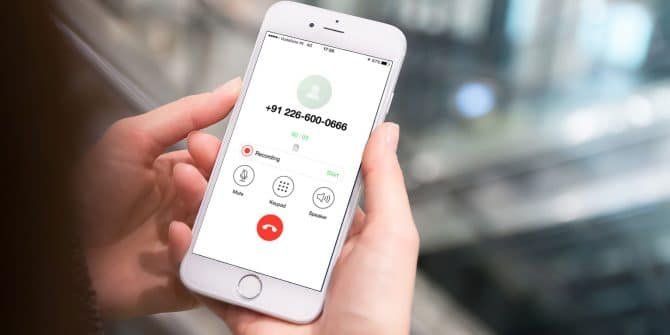 The default iPhone recorder let's you record in-person conversations and create audio messages. In fact, you can use the iPhone voice recorder for many practical purposes. One of which is recording important classroom lectures for later review. Be reminded, though, that this convenience, while being provided by the iPhone, is still subject to the rules of the school. If the professor doesn't allow recording lectures, don't do it.
With the default iPhone recorder, you can also do basic audio editing. That would include trimming clips, saving, copying, and some modulation. Organizing and categorizing the iPhone memos are also easy. You can rename them for identification and move them to separate folders. If you are using iPhone 3Gs, iPhone 4, 5, or later versions, it's possible to use the camera functions to create short video clips to accompany the recorded audio.
Your iPhone recorder needs to record incoming and outgoing phone conversations
Moving on, let's talk about the iPhone recorder to record calls. First off, take note that there are various laws that apply to recording phone calls. This is one of the most innovative additions to the iPhone, and a big distinction between modern iPhones and traditional cell phones. An iPhone recorder can be used not only for recording in-person conversations, but it can record line-in conversations as well. The default iPhone recorder has built-in function for recording conversations, but some may say that this is very limiting. If you feel the same way, you can always find downloadable third-party software.
Finding an iPhone recorder software program is easy, too. There are free and licensed applications on the Internet that can be obtained for this purpose. It's advisable to look for iPhone apps download websites for specific third-party software, because these apps are much cheaper than premium software. If anything, you can find downloadable phone call recorder software in Apple's app store.
Another alternative for boosting the capabilities of your iPhone recorder is Google Voice. This third-party plug-in can record all incoming and all outgoing phone calls. The downside is that there is no third-party app for directly accessing Google Voice. Instead, you must use the Safari Web browser for this.
Storage space is a concern when choosing an iPhone recorder
For a last reminder, the amount of recorded conversations that can be saved by your iPhone recorder will depend on the hard drive space you have available. A typical sixty-second recording requires around to 940 kilobytes, which means that a 16 gigabyte iPhone can store up to 200 hours of voice recording. To create more space, always remember to upload your audio files to a backup storage or a computer hard drive. Then, delete the original recording in your phone storage to get more free space.
Record a Conversation Or Phone Call from iPhone with APPS
1. TapeACall
TapeACall is one of the easiest apps you can use to record a call and is available to iPhone and Android users in two ways: in a free version and in a paid version. The paid version will get you a ton of useful features and will allow you to tape new calls as well as calls that are in process.
Features of the paid version include unlimited recording, no hidden "per minute" fees, access to recordings in a downloadable MP3 format, the ability to share your recordings with other people, and more. If you'd like to check out more of the features in the paid version,
TapeACall, a #1 business app in The United States, Argentina, Austria, Belgium, Bulgaria, Denmark, Chile, Croatia, Czech Republic, Dominican Republic, El Salvador, Estonia, Finland, France, Hong Kong, Ireland, Israel, Italy, Latvia, Lithuania, Luxembourg, Malta, Netherlands, New Zealand, Norway, Panama, Peru, Poland, Portugal, Romania, Singapore, Slovakia, Slovenia, South Africa, Spain, and Sweden!
TONS OF EXTRA FEATURES

√ Record your incoming calls
√ Record your outgoing calls
√ No limit on how long you can record a call for
√ No limit on how many recordings you make
√ No per minute fees!
√ Transfer recordings to your new devices
√ Easily download recordings to your computer
√ Upload your recordings to Dropbox!
√ Upload your recordings to Evernote!
√ Upload your recordings to Google Drive!
√ Email recordings to yourself in MP3 format
√ Share recordings via SMS, Facebook & Twitter
√ Label recordings so you can easily find them
√ Recordings available as soon as you hang up
√ Play recordings in the background
√ Access to call recording laws
√ Beautiful easy to use interface
√ Push notifications take you to the recording
√ Customer service with real humans
√ Developers that care about their customers
√ New features added all the time
√ One low yearly rate

NOTE: TapeACall requires your carrier supports 3-way calling.
– SimpleTalk and H2o Wireless do NOT offer this in the US.
– EE in the UK no longer supports 3-way conference calling on new plans.

Frequently Asked Questions
How does this app record calls?

Take a look at our screenshots for step by step instructions.

When you're on a call and you want to record it, open TapeACall and press the record button. We will put your call on hold and dial our recording line. As soon as our line answers tap the merge button on your screen to create a 3 way call between your other caller and our recording line.

If you want to record an outgoing call, just press the record button. The app will dial our recording line and will begin recording as soon as our line answers. Once that happens, tap the add call button on your screen, call the person you want to record, then press the merge button when they answer.

Can I download recordings to my computer?

Yes, and we've made it extremely easy to do this. Simply select a recording then tap the arrow button to the right of the player. This will show a screen containing a number of ways to share your recording. The most popular ways to transfer recordings to your computer are by email, Dropbox or Google Drive.

How many recordings can I make?

As many as you want! We don't have a limit on the number of recordings you can make.

If you upgrade to 1 year unlimited recording, payment will be charged to your iTunes Account at confirmation of purchase. The TapeACall Pro unlimited recordings subscription automatically renews unless auto-renew is turned off at least 24-hours before the end of the current period. Your iTunes Account will be charged for renewal within 24-hours prior to the end of the current period. The cost depends on the selected plan. Subscriptions may be managed by the user and auto-renewal may be turned off by going to the user's Account Settings after purchase. Any unused portion of the free trial will be forfeited when the user purchases a subscription.

Privacy Policy: tapeacall.com/privacy
Terms of Service: tapeacall.com/terms
What's New
Version 4.4.1
We update our app regularly to make your experience even better. Every app update includes improvements for reliability and performance. We'll also make sure to highlight any important new features right here. Thank you for choosing TapeACall!

• Tapping on a transcription timestamp will bring you to that point in your recording!
• Bug and visual fixes
2. Google Voice
Google released a free way for users to listen to their recorded calls: Google Voice. While Google Voice is free, you won't be able to use your regular phone and phone number to record your calls; you can only use your Google Voice phone number to record them. It is free, though, so if you don't mind that, this might be a viable call recorder app for you. Right now, it's not possible to record outgoing calls with the recording feature. After you've finished your recording, you can listen to the calls on your PC, Android phone, iPhone, or iPad. There are not too many features and options available with the recording option within Google Voice, but recording files are available for download, and it is completely free.
3. Call Recorder
Call Recorder by Boldbeast is a free app you can use on many Android phones to record your calls. The free version allows you to manage recordings, share recordings with others, and it's supposedly easy to use (according to the developer's website). Also included on the website is a list of issues that might arise during recording, and the list includes bad (weak) sound quality, problems hearing the caller's voice, and a few other various potential problems that can arise. There is a $9.99 premium version available as well.
4. Call Recorder FREE
Call Recorder FREE by Component Studios is a free app that allows you to record calls on your iPhone, but it isn't available for Android. In order to share your recordings with other people, you must purchase the premium upgrade, which costs $9.99. The free version is easy to use and allows you to record both incoming and outgoing calls.
5. iPadio
iPadio is a free app that allows you to record your calls on the iPhone and (alternatively) broadcast them to the world. iPadio is easy to set up and use, and allows you to play your recordings back, as well as download, edit, or delete them. You can also share your recordings with another person or people. iPadio is only available on iPhone.
app for iphone
iphone call app recorder
iphone call recorder
iphone recorder
mobile recorder
Record a Conversation on iphone