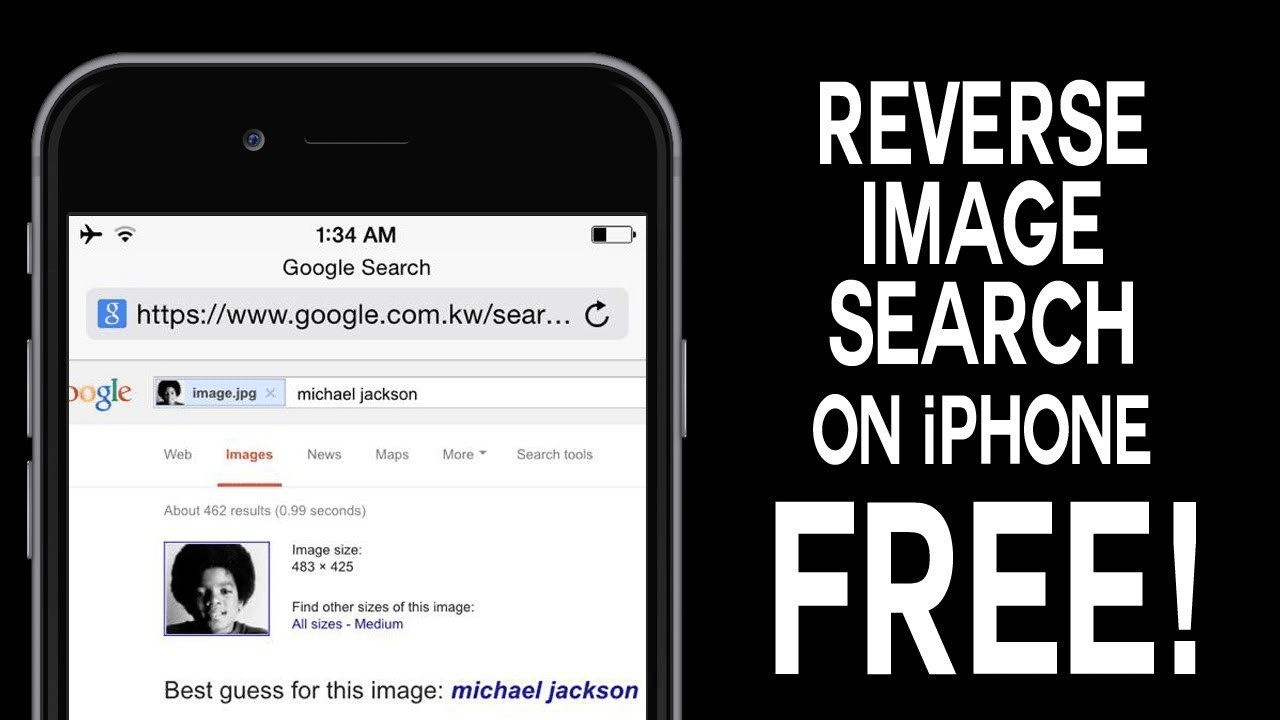 How to Reverse Image Search on iPhone Apps
Most of the time you turn to Google to look for facts and images, however, sometimes you may want to look up a picture you already have in your phone. And if you want to discover where it originated, disclose it as a fake picture, or identify the claims of the person who uploaded it.
Whatever your motivation is, this takes us to look at the reverse image search option.
Reverse image search is a search engine technology that takes an image as your search term and makes use of it rather than using words and then shows you all similar images on the internet. Say for example you find a picture of an actor when he was just thirteen, but you have no idea who it is.
Now, you may take help from reverse photo search engines to find out. Add or upload the picture into that engine then the engine will examine the image and find other photos and information it finds has similarities.
How to Reverse Image Search on iPhone
It's way simpler to perform a reverse image search on a mac or PC, but what if you want to do it for your phone?
Right here, we'll have a look at some of the most appropriate options for performing reverse photograph searches on your iPhone.
Plus, you have got a few exclusive options, so we'll show you how to carry out a reverse picture search in iOS by the usage of your browser, through a website, or by downloading apps via App store.
How to Reverse image search by using google chrome browser 
Google makes performing a reverse image search to find alternate versions of an image easy in the desktop and mobile version of its Google Chrome web browser.
The ability to perform a reverse image search is not available to Apple iPhone or iPad users thus, they have to perform Google searches through Safari. iPhone and iPad users who want to perform a reverse image search must download and use the Google Chrome app.
Now, let's walk through how to use the Google Chrome app on iPhone or iPad to perform a reverse image search to find alternate versions of images.
Install the Google Chrome app from the App Store if it's not installed on your device already. The Google Chrome app is published by Google, Inc.
Launch the Google Chrome app. The Google home screen will appear. Alternatively, if a blank, black home screen loads, tap the "+" sign in the upper left corner of the screen to open a new window featuring the Google home screen.
Now, go to the image you want to perform a reverse image search for. For example, you found a website that has an older version of the Teenage Mutant Ninja Turtles logo and you'd like to see what other versions of this logo are floating out on the Internet.
Hold your finger against the image you want to perform a reverse image search for until a menu flies up from the bottom of the screen, and then tap "Search Google for This Image" in the menu.
A new Google search window is displayed, showing you sites that contain an image similar to the image you're searching for, and also giving you the option to view a grid of similar images.
How to Reverse image search by using a website tool 
In order to verify your media around the internet, you can get credit from a large number of websites. Additionally, use of these websites is also important if someone takes your data through a few hacking tricks, you can catch those people easily by just using these reverse image search tools on your phone.
Certainly, one of them is Prepostseo that provides you with a reverse image search tool to check similar pictures and photos on the internet. Any image you uploaded on this reverse photograph search tool is 100% safe and secure.
It guarantees you to no longer share any of your images publicly plus keep your content in their database. So, there is nothing to worry about if you need to look for images by using this authentic tool by Prepostseo.
As it has become a common thing to use smartphones for searching most of the stuff but obviously you wouldn't compromise the privacy of your pictures. Here, this tool can help you out. Follow the below mentioned simple steps to use reverse image search on your iPhone.
Open browser
Change your browser to the desktop version. If you are using Safari, then tap on the share icon and the share menu will open up then tap on the arrow pointing upwards.
If you are using google chrome, then at the bottom right of the screen you can find the more icon options.
After you have found "request desktop site" option slide and tap on it
Now you can open the Prepostseo website and there you go!
Now you can upload or search the image by keyword, and you will get results in no time.
How to Reverse image search by using IPhone and Android apps
There are many types of iOS apps available that help you to perform a reverse image search on your iPhone. A couple of them is mentioned below
Reversee is available on your iPhone as a free download app at the App Store. Moreover, it is also an easy option you can take advantage of. Below mentioned steps to use Reversee app on your iPhone
Firstly, download and install Reversee app from the App store.
Then Launch the app and pick the unique photo that you want to perform a reverse search for.
[Optional] you can also alternate the resolution of the picture to be uploaded or crop a particular piece of it.
Now tap on the search button to see the reverse search and get results. 
Download for IOS (Reversee: Reverse Image Searc‪h)
Reversee is a bridge between your pictures and reverse image search engines, allowing you to make a search by image.
Use Reversee to search for:
– Webpages displaying a picture.
– A higher resolution version of a picture.
– Someone's social network profile¹.
This app is available on the iOS app store as well and it makes use of any photograph out of your picture library, camera roll, or some other storage device such as your Dropbox and will provide you every little information about it. It will also display you different webpages on the internet where similar photos may be found. The process of using this app is the same as we have discussed above.
Several other image search free apps are available for iPhone and Android, few of them are
CamFind – powered by CloudSight.ai Image Recognition API
Search the Physical World™
CamFind, the world's first successful mobile visual search engine, allows you to search for anything on your mobile device just by taking a picture.
Over 3 million users love CamFind!
FEATURES
* Internet Search Results
* Related/Similar Images and Videos
* Price Comparisons and Online Shopping
* Ask Questions and Get Answers about anything
* Local Search Results with Uber and Lyft Compatibilities
* Social Profile and Sharing
* Visual Reminders
* Instant sharing to Facebook, Twitter, Email, and Text
PictPicks is free application to search images and photos with a simple operation.
When searching images, you can use following functions.
Search images
– Search related images by image selected from your device
– Use query from your history
– Filter settings (size, color, type, time)
– SafeSearch
Searching for images is faster and easier than ever. Save your time with this app.
Features on the ImageSearchMan include:
・Search images (by keywords or image file)
・Share images to other Apps
・Download images
・Setting as Wallpaper
・Search animation gif images
・Search history
・Scale display of the image
・Search Filters(Content Type, Color, Size, Time)
Reverse Image Search let you search images via Google Image Search, Bing Image Search, Yandex Image Search and TinEye Image Search.
FEATURES:
– Directly search images from your Photo Library, Camera, Clipboard and Files on your devices.
– Search images via image URL.
– Long press on image to search in Web Browser.
– Search images by words.
– Crop and rotate images.
– Image search history.
– Save images to your devices in Web Browser.
Conclusion
The reverse image search on the iPhone is simpler and easier as it can be done by means of Google or websites or even through apps. But among all those options google chrome is one of the most effective and popular ways to reverse search images. You can learn using it more quickly and then use it without wasting your valuable time.
how to reverse image search on iphone
image search
iphone
reverse image
reverse image search google iphone
reverse image search iphone app
Reverse Image Search on iPhone
Reverse Image Search on iPhone apps