Top 5 Trends in Accounting and Finance
Understanding the numbers of your company is the key to success for your business. Organizing the incoming and outgoing cash flow helps in better decision-making, thus minimizing the chances of failure.
Since accounting and finance cover a diverse spectrum of services,business owners need a helping hand to get their processes streamlined. You cannot keep all facts and figures in your head; thus, man has leveraged technological advancements to conjure top-notch accounting systems that make all accounting information accessible in just a tap.
How has that helped us? If you want to know that, keep reading.
1. Decentralization: Automation in accounting procedures
Yeah, we know you have heard much about that already.
While you may need a lot of people to take care of your accounts, do random data entry, and still make blatant errors, automated practices have eased this process to a whole new level. A simple invoice that might take minutes to be processed now takes seconds. Thanks to automation. This not only makes the tasks that need to be catered to internally easier, but it also helps in scheduling payments. This has also cut on the time that may be required to verify these invoices before they are added into the system database.
(We cannot seriously thank automation enough)
Having all invoices captured and recorded electronically, anything that doesn't sit right or indicates traces of errors can be detected and flagged by the system to be rectified.
Could you, as a human, do it as fast as this automation does?
Well, it is not just about data collection, reiteration, and security; these changing dynamics and trends in accounting and finance have also eased decision-making and efficient budget planning.
2. Remote work for Accounts and Finance Personnel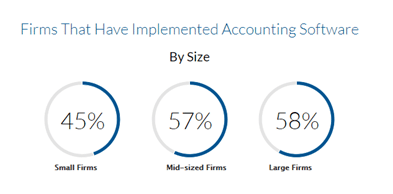 Goes without saying, this is something that became a need. Thanks to tech, that it was made possible. While front liners and field workers could not choose to stay home, the new trend of keeping all accounting, finance, and marketing data in cloud-based software made it remotely accessible and thus, eased the transition from working in-house to working from home. Companies that did not follow these trends earlier began to use different accounting software to adapt to remote working practices.
As CPA Practice Advisors suggests, around 43% of the decision-makers depend on and use at least one type of desktop accounting software in order to make informed business decisions. Did you know that 58% of the large companies make use of cloud-based accounting software? (Source: Flexi)
Just a fact check… you may continue.
3. Rise of using cloud-based accounting software
As reported by Forbes, other accounting tasks like tax preparation and payroll management would also be automated by 2022.
While malicious attempts to pilferage data have been overriding during this time, keeping everything digital and recording everything in cloud-based software has helped to keep data secure (read: unfathomably secure). With cloud-based solutions like fresh books accounting software, small businesses can build their businesses smarter and faster.
Haven't you seen the feature where you can disable someone from even downloading a Google sheet? Not to mention, its history can also be retrieved, thus showing you how companies can tap data transmission remotely without having to employ a lot of experts.
(Obviously, it is the human mind that created all of the software, dynamics, and practices; thus, they cannot be wholly replaced, ever)
This here also plugs in the concept of blockchain. One may also call it a distributed ledger, but it is something that is a bit too high on security. It comes with manifold benefits, inclusive of reducing the cost, increasing security, and making trace ability seamless. The market size for cloud accounting software is projected to be around $4.25 billion in 2023.
4. Shift from accountancy to consultancy
Now, the accountants will not only stay accountants but their jobs would be modified. Added with the help that accounting software providers, accountants would have a job that is based more on analytics and relevant decision-making.
The accountants would not only be the number cruncher of yesterday but the trusted advisors and decision-makers of tomorrow. While the implementation of software is deemed to take away a lot of jobs, accountants who start providing advisory and consultation services would see a boost in their annual incomes. The amount of $X per hour being paid would become $X + $Y.
5. Outsourcing of accounting and finance tasks
Outsourcing such tasks would not mean hiring an employee remotely to get this done but giving an entire contract to an intermediary who takes care of human resource, accounting, and finance tasks. To be honest, all companies outsource in order to save money. This increases the number of external accounting service providers, which has now become one of the fastest-growing areas in the accounting industry.
The outsourcing of accounting functions has several advantages. It allows companies to focus more on their limited resources by increasing profitability. It also allows them to save on labor costs such as fringe benefits that all in-house employees become eligible for, higher taxes, and training expenses. For this reason, outsourcing accounting functions is becoming a popular strategy among many companies.
As reported by Wasp Barcode Technologies in 2015, 71% of small and medium businesses outsourced tax preparation, 16% outsourced personal finances tasks, and 14% outsourced bookkeeping, while 48% outsourced auditing.
Bottom line
Well, the accounting trends are predictable regardless. How the corporate world has started adapting to the changing economic environment is not so remarkable, but uncalled for adaptability at the workplace is a hard pill to swallow.
Nonetheless, emerging trends in accounting and finance would continue to sustain even in the long run as the world becomes widely dependent on services and products from offshore places, giving rise to flexible work practices and, thus, to corresponding trends in accounting and finance industry.