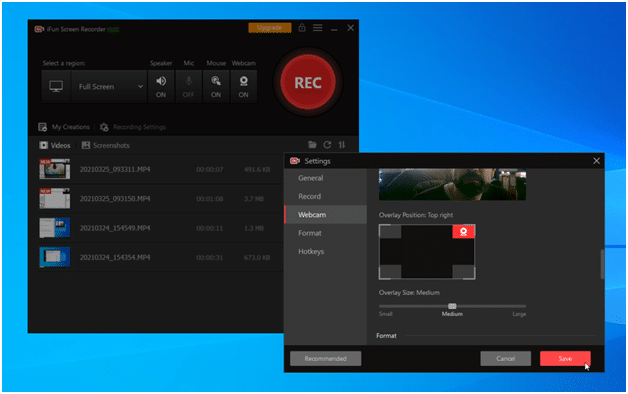 What we think about iFun Screen Recorder – A Simple Review
This article will discuss a great screen recorder.This screen recorder is lightweight but its capabilities are no less than most heavyweight screen recorders.If you are curious about a lightweight solution for recording your PC screen then this article may be of use to you. In short, it is an extremely robust screen recorder for Windows that, although lightweight, is complete for you to get the best possible qualities. If you are still "searching" for an online screen recorder, you are at the right page.
iFun Screen Recorder is a lightweight program capable of recording everything running on your computer screen with incredible robustness and practicality in resolutions up to 4K. You can use it both for video lessons and tutorials as well as for games, sure that you will be extracting the best quality possible.
The program, although lightweight, is complete with highly robust functions, so that you can explore the best in this regard. In the main interface, you can configure aspects such as the area to be recorded and which audio inputs should be captured, where in "REC", you already start your recordings.
Recording settings
It comes ready and properly configured, but through the option "Recording settings" you can determine the number of aspects, such as recording resolution, which can even be expanded beyond the capacity of your monitor. In addition, you also find features to configure the output format, such as MP4 and AVI, the frame rate, the quality, and even the audio options so that your production can be the best possible, which, however, can seriously impact the final size of the recording video file.
iFun Screenshot
iFun Screenshot gives you the ability to select any area of the screen to capture.This is also supported by the ability to scroll screenshots which are useful for making a long screenshot.Not only that, you can directly edit the screenshot and share it on social media.
Appear together in overlap
Another feature of special note concerns the possibility of you appearing in overlapping recordings, something that is widely used these days. When you simply turn on the Webcam option, already highlighted in the program's presentation interface, the captures will take place in duality, where you can appear together with your captures for different purposes. You can also configure all aspects of this overlay by going to the program settings that you can access by clicking on the three-stripe bar, located next to the minimize button in the upper right corner of the interface, accessing its "Settings" menu.
What we think about
If your need is to have a screen recorder free and take video captures from any screen on your PC, including playing games, rest assured that iFun Screen Recorder is a sure option for that. The program unites the best possible in this sense with the incredible feat of running lightly in the system, without consuming resources, even during the recordings. It is vastly packed with quality features, including allowing you to appear together in overlap. Its only counterpoint, however, concerns the program's watermark in captures in its free version.
screen recorder